Our experience in utilities bill management indicates that as much as 30% of utility costs are wasted or unnecessary.  This can be due to a variety of reasons, including unsuitable tariffs, incorrect billing, meters being read wrongly or even being charged for a neighbouring company's supply.
But effective utilities management doesn't stop at just bill management. It requires detailed knowledge of the markets and expertise in tendering processes. Then to achieve and maintain the most competitive prices and ongoing cost savings. We also call on our expertise in project management capability to ensure that more complex initiatives are implemented correctly.
What sets us apart is the way we work. Our services are completely performance related, so we share any refunds and savings. This means we are dedicated to getting our clients the very best deals. Read more about How We Work.
Our utility management service covers all aspects of energy cost and usage, water rates and more :
Utility Bill Validation
Utility bill management can be complex. Understanding your current and past bills is vital to identify discrepancies. Comprehensive checking of all your utility bills is a key part of our service. Our analysts are experts in bill validation, spotting errors and providing you with simplified reporting.
Dispute Resolution
Utility disputes and complaints are common. Some of the leading suppliers are not well rated for customer service. Disputes can be stressful and drag on. Our team is dedicated to securing a fast resolutions including maximising refunds and compensation for interruptions in services.
Energy Compliance
Beaconplus have developed approaches to help organisations of all sizes understand their energy cost, consumption and carbon footprint. Our experts can take the strain out of the growing complexities of energy compliance. Read more about Compliance & Efficiency (link)
Green Energy
Sustainability and sources of renewable energy are rapidly evolving areas of increasing importance for business of all sizes. As experts in utility management, we can ensure that your company meets its objectives, within budget.
Energy Efficiency
Energy Efficiency is an important part of managing utilities. We can advise on improvements in energy efficiency, including LED (Light Emitting Diode) Lighting, Voltage Optimisation and installing smart meters.
Utility Supplier Switching
We take care of the entire process of finding new utility suppliers from beginning to end. Including managing the supplier switching process, and invoice checking.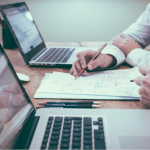 As a completely independent utility consultancy, we can provide impartial advice for businesses. We offer clear and simple comparison of the whole market, scrutinising your existing utilities contracts, to find better deals. We serve clients across single and multi-sites.
Whatever your issue with utilities management, including reducing the cost of electricity, gas or water; upgrading meters; relocating or installing completely new energy supplies, we can ensure that you get the solution to meet all your needs.